SATURDAY - August 10, 2024   5:30 PM
The race will be started at 5:30 PM, rain or shine, on Saturday, August 10, 2024.  Due to safety concerns an electrical storm will necessitate cancelling the run.  Weather cancellations will be announced by 4:30 PM on the home page of the beach patrol's website.
CLICK HERE TO REGISTER ONLINE FOR THE 2024 RACE
THERE IS NO MAIL-IN REGISTRATION
ENTRY FEE
Online early bird registration: $30.00 - closes Saturday, August 3, 2024 at 11:00 PM.
Race week registration: $40.00 - closes Saturday, August 10, 2024 at 4:30 PM.
Team and club registration: below charges are per individual team or club member.
Online team pre-registration: $32.00 - closes Saturday, August 3, 2024 at 11:00 PM.
Race Day registration: $42.00 - closes Saturday, August 10, 2024 at 4:30 PM.
Entry fees are non-refundable.  This is true even in the event of race cancellation.
Make checks payable to Sea Isle City Beach Patrol
RACE DAY REGISTRATION AND RACE PACKET PICK-UP
Saturday, August 10, between 12:00 noon and 4:30 PM at beach patrol headquarters, 10 44th Street. Please allow additional driving time for the increase of traffic on the weekend.
COURSE
A traffic free, flat course which starts at the Sea Isle City Beach Patrol Headquarters, located at 44th Street and the Boardwalk. Run north on the boardwalk to the 29th Street ramp, onto the beach to the Strathmere turn around, return over the same route running south to the 57th Street ramp, onto the beach to the Townsend's Inlet turn around, return along the beach to the finish in front of the Beach Patrol Headquarters.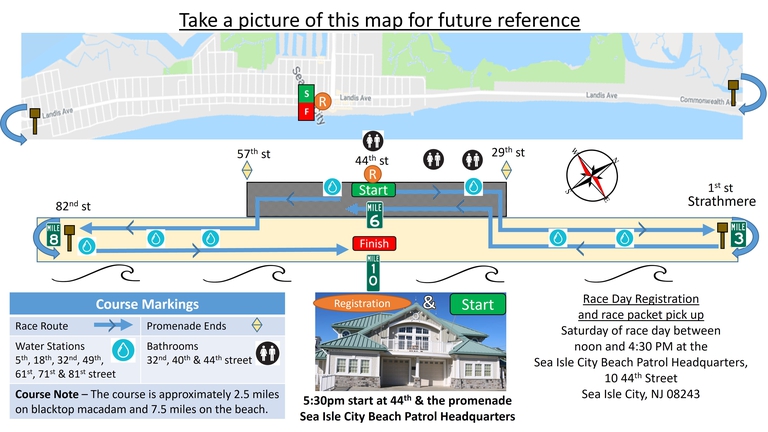 DISTANCE AND RUNNING SURFACE
A ten mile race with approximately two and one half miles on a blacktop macadam boardwalk.  The remaining distance will be on the beach.  Low tide occurs at 6:35 PM which means you will not be running on soft sand, but on hard packed sand similar to a dirt trail.
COURSE RECORDS
Male:  Macharia Yuot, 51:17, 2006
Female:  Kathleen Jobes, 57:56, 2009
RACE FEATURES
Chip timing.
Refreshments at the finish line.
Plenty of water stations.
Toilet facilities provided at the start and finish of race.
Public parking available at: 300 JFK Boulevard, 125 JFK Boulevard, and 4416 Landis Avenue.  All locations are in Sea Isle City, NJ 08243.
Compuscore Computer Services will provide race results based on gun time.  Complete overall order of finish, gun time, and chip time will be available on their website - www.compuscore.com.
NO WALKERS OR EXTREMELY SLOW RUNNERS PLEASE!!!
Since this is a ten mile evening race, it will be dark by the time walkers and extremely slow runners finish.  This creates a safety hazard.  Consequently, a time cap of 2 hours and 30 minutes is necessary.  When the race clocks reach 2 hours 30 minutes Compuscore will begin the process of breaking down the finish line, medical assistance will leave, and the refreshment area will close.
AWARDS
High quality heavyweight, multi color print T-shirts to the first 1000 online registrants.  Shirts not claimed by pre-registrants at race packet pick-up will be distributed to race volunteers.
There will be male and female divisions for the following categories:
Trophies first through tenth place finishers.
Trophies to first and second place winners of the following age groups: (16 and under), (17-19), (20-24), (25-29), (30-34), (35-39), (40-44), (45-49), (50-54),  (55-59), (60-64), (65 -69), (70 and over).
No duplication of awards.  The top ten finishers in the male and female divisions are not eligible for age group trophies.
Team plaques and individual medals to each scoring member in the following categories:
First and second place running clubs.
First place beach patrol.
First place corporate team.
Awards ceremony will be held at the beach patrol headquarters, 44th Street and Promenade, at 7:30 PM.  The beach patrol does not mail trophies, medals or plaques to individuals who are not able to stay for the awards ceremony.
TEAMS AND BEACH PATROLS
The number of entries allowed per team or beach patrol is unlimited.  The first four runners across the finish line will score for a team or beach patrol.  All members must complete their own registration form.
True team scoring, also known as cross country scoring, is the method of scoring that will be applied to determine winners.   To represent a particular beach patrol or corporate team a runner must have, in 2024, worked 30 days prior to race day for the organization being represented.   
SEA ISLE CITY BEACH PATROL PARTNERS WITH FOR PETE'S SAKE
In September of 1999, Sea Isle City Beach Patrol said goodbye to former lifeguard Peter R. Bossow, Jr. after he lost his battle with testicular cancer.  Prior to his death at age thirty, Peter founded For Pete's Sake Cancer Respite Foundation, an organization dedicated to providing respite vacations for adult cancer patients and their families.  Since his death, For Pete's Sake has been sending families on weeklong respites to donated homes along the Jersey Shore and to other vacation locations along the East Coast. These unforgettable and lasting vacations provide cancer patients and their loved ones the opportunity to strengthen, deepen, and unify their relationships.   
The beach patrol encourages individuals and teams to support FPS by making a donation when registering.  You will receive a thank you and receipt for this donation directly from For Pete's Sake.
For more information about For Pete's Sake and its mission, visit http://www.takeabreakfromcancer.org.  Jersey Shore home owners can also visit For Pete's Sake website to initiate the process of donating their summer home for one week.
DIRECTIONS
From the New Jersey area take the Garden State Parkway south to Exit 17.  If you are traveling north on the Parkway, there is no Exit 17.  One needs to double back using the Seaville Service Station parking lot at mile marker 18.  At the exit's end, make a right onto Route 625.   After crossing the bay bridge you are on John F. Kennedy Boulevard. Continue on John F. Kennedy Boulevard to last street before the boardwalk; Pleasure Avenue.  Go right to 44th Street.  The patrol's headquarters and start are located on the boardwalk at 44th Street.
From Pennsylvania and points west take Route 42 or 73 to the Atlantic City Expressway east.  Exit the Expressway at 7S, Garden State Parkway south.  Then follow the above directions for the New Jersey area.
From New York and points north take the New Jersey Turnpike south to Exit 11, Garden State Parkway south.  Then follow the above directions for the New Jersey area.
From Delaware and points south take Route 40 east to Mays Landing, take Route 50 south to Seaville, take Route 9 south to the Sea Isle City turn off, make a left onto Route 625.  Then follow the above directions for the New Jersey area.
SHIRT SPONSORS
Henri's - 18 John F. Kennedy Blvd.
G & T Crib and Linen Rental Service - 42nd Street and Park Rd.
Oar House Pub - 318 42nd Place
Ocean Drive Restaurant and Night Club - 40th Street and Landis Ave.
Sunset Pier Restaurant and Marina - 86th Street and Bay
Uncle Oogie's Pizzeria - 63rd and Landis Ave.